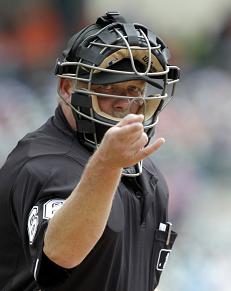 I don't know if this makes me a cynic, an optimist or what, but the first thing I thought today when I realized that Jim Joyce was going to be working behind the plate was "boy, I bet the Tigers get a wide strike zone today!"  I mean, I want to believe that people don't try to make up for mistakes like that, but people are people, ya know?
For what it's worth the game wasn't close — the Tigers killed the Indians 12-6 — and the strike zone, while not the best in the world, didn't seemed skewed in the Tigers' direction or against the Tribe.
Here are starter Rick Porcello's pitches plotted over at Brooks Baseball. Just about as many missed balls as missed strikes. Joyce obviously gives the pitcher the benefit of the doubt on the left edge and harms him on the lower right, but it's not like this is a crazy or unprecedented game for anyone. Indians' starter David Huff had a little better zone. Of course he got clobbered, but that's not Joyce's fault.
I dunno. Probably expecting too much — or too little, maybe — out of people to even make such an inquiry, but it's a fun one all the same.  If anyone else with better Pitch f/x-fu than me wants to take a crack at it and tell me what I missed, by all means, let me know in the comments.