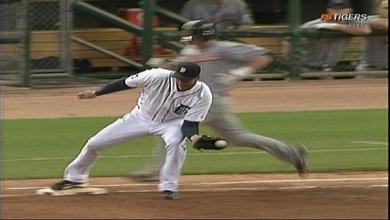 A day after the Jim Joyce call, one thing almost everyone agrees on — myself included — is that baseball needs to expand instant replay beyond the current boundary calls rule. The problem is that it's not at all clear how to do it.
An issue is whether or not implementing replay is a matter that has to be negotiated with the players' union in the context of collective bargaining. It's actually kind of vague. Article XVIII of the CBA says that players must sign off on changes that significantly change the "terms of employment."  Is replay one of those changes?  I'm not sure that it is. Maybe for umpires it is, but my sense is that it's not for players.
The problem, though, is that the last time replay was brought up — when it was implemented for home run calls in the 2008 season — the union was consulted and did sign off.  Not as a part of collective bargaining, but in at least something approaching a formal process.  Add that to the fact that Selig has acted as though he's not totally in charge of replay — he's one of the most notorious buck-passers in baseball and has often spoken about getting everyone on board — and you can see why someone, maybe even Bud himself, would say that this is something that has to go slowly and involve the union.
I think it's highly unlikely that the union would oppose replay — they don't want to see their members lose perfect games either, you know — but I have a hard time seeing them pass up the opportunity to be involved, if for no other reason than to not appear to cede power to Selig.  I think they'll be consulted and will operate as though they are a part of the process. As they probably should.
But if that happens, a key thing to watch is whether Bud and the MLBPA treat it informally and just let replay happen, or if they treat it like other big issues such as drug testing (i.e. a
"significant
change") and actually do some quick supplemental bargaining on it.  If they do, Michael Weiner will have to, by the MLBPA's own rules, take it to the Executive Committee for approval, and usually that takes
some
time.
Moreover, per the CBA, any rules changes like this wouldn't come into play until next season.
But like I said, it may not come to that.  Bud — assuming he doesn't completely blow this one and does nothing — will probably consult
with the MLBPA and negotiate at least in some way, shape of form. Whether that is formally, in a manner that would lead to a delayed implementation, or informally, in a way that would allow replay to happen quickly, depends on how much Bud wants to share credit and/or the blame for how the whole process works out.