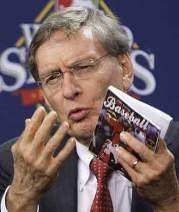 According to Larry Lange of the AP, Major League Baseball was "still deciding" whether or not to overturn the Galarraga game as of this morning.  Bud is talking to his advisors, the story says.  For what it's worth, Tony La Russa — not a formal advisor, but the game's only Super Genius — thinks it should be overturned.  Bud sometimes listens to La Russa on these things, sometimes he doesn't. My bet is that he's listening to his PR people more than baseball people, however.
After a good night's sleep my original position still stands: don't overturn it, because doing so — however satisfying it may be at the moment — would open up a can of worms.  Like I said earlier, you could change the call in last night's Mariners-Twins game if you wanted to. You could do it a dozen times a year, really.
If Bud chooses to overturn this game, he has to understand that he's not just righting a wrong. He's setting a precedent.  One that will create a ton of new work for the Commissioner's Office that, quite frankly, I don't think it wants or needs.