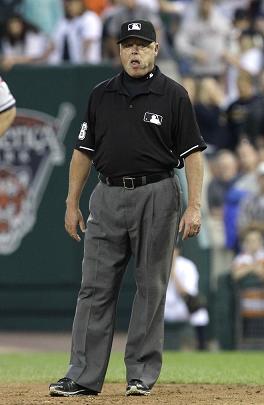 Tigers 3, Indians 0: So, did anything notable happen in this game?
Mariners 2, Twins 1: Between a tornado warning (see the Cubs-Pirates recap at the bottom) and the Armando Galarraga stuff I was unable to pay any attention to Ken Griffey's retirement before this game.  I will remedy that later today.
Dodgers 1, Diamondbacks 0: I watched way more of this game than I should have. Guess it was morbid fascination combined with being lulled into a state of happy by Vin Scully's voice. It totally screwed with my judgment too. In the 14th inning, Scully, after the second out, said something to the effect of "hope you don't have any plans everybody . . ." before catching himself and saying " . . . because unless Garret Anderson can do something here we'll be heading to the 15th."  My comment on Twitter at the time was "It's possible that Vin thought there were already
three outs there, but more likely that he's just realistic about Garret
Anderson's chances." Of course Anderson then singled in Matt Kemp, ending the game.
Braves 2, Phillies 1: Hit this one up yesterday afternoon.  Atlanta now goes to face a Dodgers pitching staff that (a) hasn't given up a run in forever, but (b) has to be tired after consecutive extra-inning performances.
Yankees 9, Orioles 1: The whole Yankees starting lineup was back for the first time in forever last night. Now that they're done with that practice squad in the orange, black and gray uniforms they get to see how they play against real teams. UPDATE:  Oops, sorry about that. They have one more game against the practice squad. Forgive me, but my brain is a bit fried this morning.
Rays 7, Blue Jays 3: Lord Almighty, the Rays like the late-inning drama, no? Carl Crawford's ninth-inning grand slam didn't put the Rays ahead, but it certainly put the game out of reach, as Tampa Bay puts up a six spot in the final frame for a come-from-behind victory.
Padres 5, Mets 1: At some point, just before I went to bed early, early this morning (yeah, I'm functioning on almost no sleep right now) I suffered this moment of panic, wondering if, between the Armando Galarraga thing, Griffey's retirement, the Braves sweep of the Phillies and all of the amazing late-night action, if there was just too much baseball drama to handle. This one may have put me over the edge. Adrian Gonzalez 11th inning grand slam. Just an unreal day of baseball yesterday.
Red Sox 6, Athletics 4: Big Papi — we can call him that now that he's hitting like Big Papi again — hit the go-ahead two-run homer in the fifth. He was 2 for 2 with a double, that homer and two walks. Can a guy win Comeback Player of the Year for coming back from adversity that occurred in the same season?
Brewers 7, Marlins 4: Where would the Brewers be without Yovani Gallardo? In addition to giving up two runs in seven innings with four strikeouts, he hit a dinger.
Rangers 9, White Sox 5: Vlad Guerrero was scratched after getting popped in the eye by a ball at the batting cage during BP (the practice kind of BP, not the kind that spilled all that oil). He was not needed, however, as Matt Treanor homered and drove in four and Michael Young had three hits.
Astros 5, Nationals 1: Back-to-back wins for the Astros for the first time in nearly a month. Three errors for Ian Desmond, who now has 14 on the year.
Angels 7, Royals 2: Torii Hunter homered, doubled, singled and drove in three runs as the Angels take their sixth win in eight games.
Cardinals 4, Reds 1: Chris Carpenter allows only one run on four hits over eight innings to bring the Cards back into a tie for first place. Big boo-boo here: runner on first and third in the seventh, and Scott Rolen — the guy on first — got smacked by a ground ball. Just one of them things.
Giants 4, Rockies 1: A two-run double for the slumping Aaron Rowand and one run on four hits over eight innings for Chris Carpenter Matt Cain helps the Giants avoid the sweep.
Cubs vs. Pirates: Postponed. I'm assuming this was the same weather system that blew threw my town a few hours earlier. We had tornado warnings and all kinds of fun stuff. My wife and kids and I were the basement for a while. While down there, my son found an old wooden Louisville Slugger I've had since I was a kid. My daughter looked at the name on it and asked "Daddy, who's Gorman Thomas?"  My answer: "He was one of Harvey's Wallbangers, dear."  The my wife made me explain a little more thoroughly.