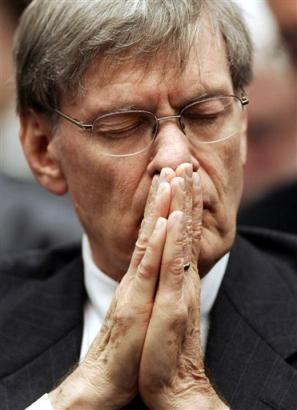 That's the question a dozen people have asked me so far. People are tweeting about it. Even my wife — who knows nothing about any of this aside from the fact that I'm banging out copy about it at 10:00PM about — asked "why can't they just fix the call?"  Let's unpack:
Can Bud reverse the call?:  Sure, why not?  I've seen some people mention Bud Selig's powers to act "in the best interests of baseball," but I think that's got it wrong.  Those powers — which are specified in Article II, Section 3of the league's Constitution — tend to be reserved for discipline and control of teams and employees. Business matters among the franchises, really, not on-the-field activities.
On-the-field, the Commissioner of Baseball would appear to have plenary power. He can deem an All-Star Game a tie. He has total control to grant or deny protests. He can make up stuff on the fly, just like he did with replay on boundary calls.  Technically speaking, there is no reason why Bud Selig can't overturn the call, void anything that happened after it and grant Galarraga his perfect game.
Should Bud Selig reverse the call?  This is a toughie — and I'll accept argument to the contrary, but my gut instinct is to say no.
What is accomplished by doing such a thing?  Galarraga doesn't get to go back onto the field and have his teammates mob him.  The 17,738 people in Comerica Park for the game don't get to come back together and cheer.  No highlight, no collective memory and no euphoria would be gained.  All that would be changed is a notation in a record book.
And doing so risks an awful lot.  Why retroactively overturn this call and not others?  Bad calls happen all the time.  Should Bud Selig be in the business of changing the outcomes of games in which outs were called on trapped balls?  Should he demand that a game be started over from the top of the sixth inning when the umpires missed a balk?  It's an overused phrase, but it's overused for a reason: where do you draw the line?
The funny thing here is that by keeping the call as-is — however unfair it might be — we may just be able to prevent just such a can of worms from ever being opened.  Why? Because if this game stands as a travesty — if Armando Galarraga remains a martyr, as it were — action may finally be spurred to implement instant replay.  And if that happens the right calls will be made almost every time and Bud Selig will never have to concern himself with this kind of thing again.
Another overused, but still-apt phrase springs to mind: you can't un-ring a bell.  What happened tonight happened. Baseball has to deal with it.  No act of God or Bud can and should erase it. All baseball can do from it is to learn and, hopefully, improve.