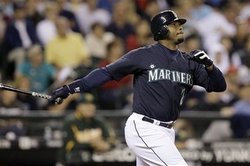 Mariners manager Don Wakamatsu said Wednesday that Ken Griffey Jr. has opted to retire, effective immediately.
Griffey, the 1997 AL MVP, was hitting just .184/.250/.204 and was homerless in 98 at-bats this season. He lost playing time to Mike Sweeney last month and saw his role decrease even further with Milton Bradley back from the restricted list.
A surefire Hall of Famer, Griffey finishes his career wth a .284/.370/.538 line, 630 homers and 1,836 RBI in 22 seasons. He ranks fifth all-time in homers, 14th in RBI and 12th in total bases. He went to 13 All-Star Games and won 10 Gold Glove awards.