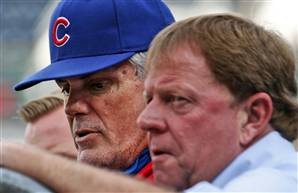 Chicago Cubs manager Lou Piniella, exasperated with his team's offense, did the ol' lineup shakeup for Tuesday's game against the Pirates, inserting Tyler Colvin, Xavier Nady, Jeff Baker and Koyie Hill into the lineup as Marlon Byrd, Derrek Lee and Aramis Ramirez and Geovany Soto grabbed some pine.
Benching all of those guys in the same game smacks of desperation, but when you're 24-28 (make that 24-29, now) and your offense just spent the month of May hitting like this guy, well, these are desperate times.
Two months into the season, Piniella is telling the Chicago Tribune that he is finished being patient.
"I think we've shown remarkable patience here, not changing things, staying constant, assuming that our hitting is right around the corner," manager Lou Piniella said before Tuesday's game. "Unfortunately, that hasn't been the case. So what do you do? Patience is a virtue, right? Too much patience is stupidity. I still cling to the fact that our guys are going to hit, but at the same time, it's already June… a third into the season."
Alas, Lou's moves failed to produce a win, as the Cubs fell 3-2 to Pittsburgh on Neil Walker's first career home run. Nady did his part, going 4-for-4 with a two-run home run, but the others were a combined 1-for-9 with three strikeouts. Lee and Byrd each had a shot at pinch-hitting duties, and each returned to the bench after whiffing.
While the face value interpretation of Piniella's mini-rant on patience is that he's tired of waiting for his stars to hit, it could also be viewed as a plea to GM Jim Hendry to do something – anything – to make this team better.
One thing for certain is that Piniella is baffled by how to fix things. "I mean, the last three games we won, we shut out the opposition. I don't know. I wish I knew, fellas. I wish I knew."
Hendry, for his part, didn't sound like he as in a hurry to do anything. (As told to the Chicago Sun-Times)
"This next couple of weeks is real important," general manager Jim Hendry said. "You could look up in two weeks and be two or three back maybe or if you had a bad two weeks, then you've got some concern."
So maybe Hendry is still preaching patience, but Piniella has had all of that he can stomach.
Are you on Twitter? You can follow Bob here, and get all your HBT updates here.