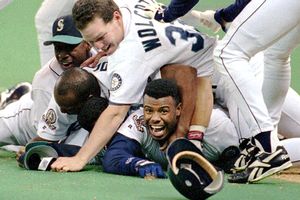 A massive talent with a big smile he wore constantly, Ken Griffey Jr. burst onto the scene in 1989, hitting 16 homers and finishing third in the AL Rookie of the Year balloting despite playing the entire season at age 19.
Griffey just made it look so easy. And there were times in his mid-20s when he really was baseball's best player. He led the AL in homers four times, won an MVP award in 1997 and finished in the top five on four other occasions. Capitalizing on one of baseball's greatest offensive eras, he drove in 140 runs in three straight seasons.
Griffey, though, was not the best player of the 1990s. That was Barry Bonds. He never led the American League in batting average or on-base percentage. He topped the circuit in slugging only once. It's true he had more defensive value than most of the guys who were outslugging him. But the one MVP award was truly all he deserved.
We know what happened to Griffey after the 1990s. Following a trade to the Reds in Feb. 2000, he put up one All-Star caliber season and then spent much of the next four years on the DL. In 8 1/2 years with the Reds, he played in 945 games, hitting .270/.362/.514. Just once did he finish in the top 10 in the NL in OPS (7th in 2005).
As a Red, Griffey was a big disappointment. As a Mariner, his teams were chronic underacheivers. In his 22 seasons, Griffey went to the postseason just three times and his clubs won only one postseason series. Griffey did come through in a big way in 1995, hitting five homers in the ALDS win over the Yankees and then putting together another strong series against the Indians in the ALCS loss. However, he went on to go a mere 2-for-15 in the 1997 ALDS loss, and he wasn't a factor in the 2008 postseason, going 2-for-10 as the White Sox were eliminated by the Rays.
Griffey is certainly a Hall of Famer. Fairly or not, he's gone untarnished despite playing during the Steroid Era, mostly because he never looked like a user. He was a brilliant player with a gorgeous swing that produced 630 homers. Before his legs began to go, he was an outstanding center fielder.
I just wish I remembered those days better. Griffey spent about four or five too many seasons patrolling center when he would have helped the Reds more in a corner. He didn't drive in 100 runs in any of his final 10 seasons. It's been so long since he was a true great that it's easy to forget just how good he was.