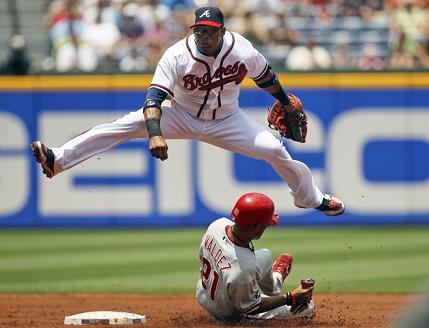 The Braves beat the Phillies 2-1 this afternoon behind a stellar outing from Derek Lowe and some timely hitting from Omar Infante, who was subbing for a banged up Chipper Jones.  Lowe gave up one run on six hits in eight innings with seven strikeouts. He was helped by a couple of timely double plays and, as I mentioned earlier today, a little bit of luck too.
Kyle Kendrick was nearly as good, giving up one run in seven innings. Jose Contreras showed that he is mortal, however, walking two (one intentionally) and giving up a two-out RBI single to Omar Infante to drive home the winning run. Or maybe he's just mortal against the Braves.
The Braves have won eight straight and now have a 2.5 game lead in the NL East as they hop a plane for the west coast.  The Phillies have lost nine of their last 11 and have scored a mere 14 runs in those games.  I suppose there are worse plans than asking Roy Halladay to throw perfect games every time out, but the Phillies need a better one, and fast.