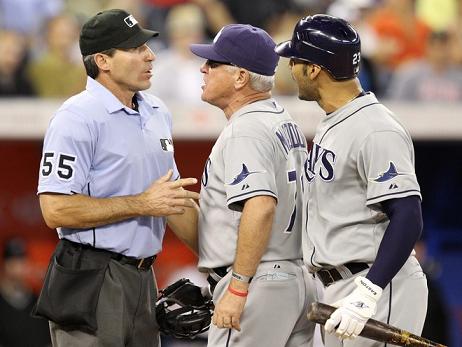 In hindsight, the biggest shocker of the whole ninth inning exchange between Carlos Pena, Joe Maddon and home plate umpire Angel Hernandez in last night's Rays-Jays game was that Kevin Gregg threw a strike. But we'll cover Gregg's nightmare night later this morning.  For now, let's talk about the rhubarb.
In case you missed it, Carlos Pena had a 2-2 count on him and called for time just as Gregg was going into his windup.* Hernandez didn't grant it, Gregg pitched, and Pena — out of his stance and bat at his side — half-heartedly offered at what came in for strike three. The whole sequence can be seen here.
*Note: the MLB.com video starts a couple of seconds too late to tell for sure, but it's not at all clear that Pena was calling for time before Gregg actually went into motion. He certainly had his hand up as Gregg was winding up, but we can't tell if he had been calling time before that. If anyone out there was watching the game live and can weigh in on this, please do so in the comments.
Joe Maddon was clearly perturbed that Hernandez chose that moment — one out in the
ninth inning as the Rays are mounting a rally — to enforce baseball's
new get-tough policy on speeding up the game. He gave Hernandez an earful over it and then walked down the line to give crew chief Joe West an earful as well, telling him "This is your [bleeping] fault!" no doubt referring to West's crusade to speed up games via any and all methods short of calling a reasonable strike zone.
I understand Maddon's frustration.  I think umps should be more stingy about allowing timeouts — and if Pena really wasn't calling for it before Gregg was in his windup, forget it — but the ninth inning of a tense game is not the time to start denying guys time.  Consistency is key, and based on what all the parties to the dustup were saying after the game, Hernandez's time-out policy was not consistent.
Just another item on the agenda for baseball's umpire czar Mike Port, I suppose.  Between West's and Bob Davidson's antics last week, Bill Hohn's on Monday and this business last week, Port has been a pretty busy guy lately.