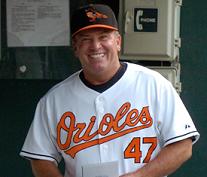 That's The Baltimore Sun's Peter Schmuck's assessment anyway.  Worth noting that the O's don't have an offday until Monday, but I suppose there's no law that says a manager has to be fired on an offday.
Schmuck, who has not been a vehement Trembley basher by any stretch, says that "the job is eating him alive" and says that Trembley should be "put out of his misery.  He even quotes the execution scene from the movie "Breaker Morant."  Which, while shooting Schmuck up about ten thousand percent in my book because that movie is eight shades of awesome, is perhaps a bit melodramatic for an Orioles manager.
At any rate, when columns like this one come out it's not a matter of if. It's a matter of when.