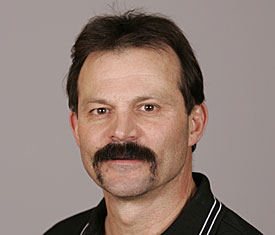 Baseball rarely if ever comments publicly on umpire discipline, so when it was announced that Joe West was being fined the other day that was (a) big news; and (b) evidence that he really screwed up.
What, then, to make of this from Bob Watson, baseball's director of discipline?
A Major League Baseball official says umpire Bill Hohn will be addressed
"in a very stern way" after a confrontation with Houston pitcher Roy Oswalt.
Sure, you could say that a reprimand, which is what this sounds like, is kind of a nothing punishment.  But to think that is to misunderstand how institutional punishments tend to work.  You give reprimands — and, more importantly, make statements like this announcing the reprimands — to lay the groundwork for escalated discipline later.
As many noted in the Oswalt thread yesterday, Hohn has had a history of bad behavior.  Baseball, it seems to me, is acknowledging that here, and is hopefully setting the stage for more severe action later, when he inevitably messes up and lets his ego run wild again.
Maybe that's not as satisfying as tying him to a stake, smearing honey on him and letting the red ants run free, but it's about as much as we can hope from Major League Baseball when it comes to umpire discipline.