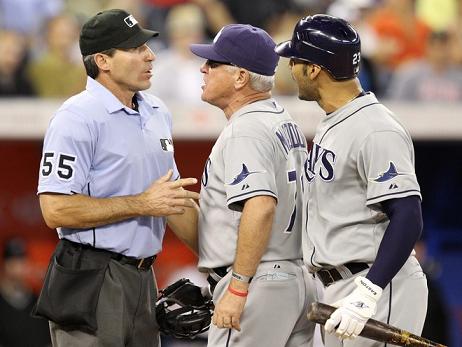 Rays 7, Blue Jays 6:  Holy schnikes, that was a wild ending. Kevin Gregg had a meltdown, walking five guys, Joe Maddon got tossed after Carlos Pena wasn't granted time out at the plate and Sean Rodriguez hit a go-ahead, three-run double to seal a come-from-behind victory.  The wildest thing though? Pena later said that Angel Hernandez was "a good umpire."  Insanity! More on this game later today, obviously.
Braves 7, Phillies 3: Tim Hudson came back after a one-hour rain delay to pitch six strong innings. Cole Hamels didn't come back, but gave up a big homer to Troy Glaus in the downpour that preceded the stoppage to put the Phillies in a hole they couldn't dig out of. The good news? The Phillies made a little noise late, with Ryan Howard breaking the Phillies' 68-inning homerless streak in the sixth. Perhaps that's a sign the bats are finally waking up.
Dodgers 1, Diamondbacks 0: A walkoff home run > walkoff balk.  Matt Kemp hit a solo jack in the bottom of the tenth to win it for the Dodgers. Both Dan Haren and John Ely deserved better fates, with the former throwing eight walk-free shutout innings and the latter throwing shutout, two-hit ball over seven.
Red Sox 9, Athletics 4: Victor Martinez is en fuego: 5-for-5 with four doubles and a couple of RBI last night to pick up John Lackey, who put 14 baserunners on in six innings. Adrian Beltre's three-run homer in the fifth jump-started the comeback after the Sox found themselves down 4-0.
Pirates 3, Cubs 2: Neil Walker hit his first big league homer to help the Pirates beat the Cubs yet again. After the game he said "getting drafted by the Pirates, this is just a Cinderella story. It's
incredible." OK, Walker is from Pittsburgh and grew up going to games at Three Rivers Stadium, so I guess it could be considered a Cinderella story for him, but I'm also guessing his is not the majority opinion among those who get drafted by the Pirates.  In other news, Lou Piniella sounds like he's at the end of his rope.
Reds 9, Cardinals 8: Scott Rolen hit two dingers to put the Reds back up by a game in the Central. Johnny Cueto had a terrible outing, giving up eight runs on ten hits and squandering a nice lead. Luckily Dennys Reyes (.1 IP, 3 H, 2 ER), Johnny Gomes and Drew Stubbs — each with seventh inning RBIs — bailed him out.
Yankees 3, Orioles 1: Javy Vazquez went seven innings giving up one run on four hits and basking in the Yankee Stadium love. At least until his next start. Mark Teixeira left the game early after fouling one off his foot, but he's expected to be back today.
Rockies 2, Giants 1: Clint Barmes did all the damage for Colorado — if two runs can be considered "damage" — topping the night off with an RBI double in the 11th. Kind of like the Dodgers game, a couple of good starts from Barry Zito and Jason Hammel went for naught.
Mariners 7, Twins 1: The M's beat up Nick Blackburn and Jason Vargas saved himself from being decapitated by a Joe Mauer liner. Nice night all around!
Mets 4, Padres 2: Mike Pelfrey is having one of the quieter awesome seasons you'll ever see this year. Yet another strong start last night, going eight innings, giving up one run on four hits and striking out eight. David Wright went 3 for 4 with a homer in that big gigantic ballpark that — amazingly, if you believe those whose armchair psychiatry practice focuses on David Wright's mindset — doesn't seem to freak him out at all.
Royals 6, Angels 3: Joel Piniero gave up six runs on ten hits in eight innings and the Royals bullpen shut down the Angels from the sixth inning on. Organizational soldier Robb Quinlan got the start at first base for Anaheim last night. He has 25 homers in over a thousand career major league at bats, so my guess is that the Angels are still thinking about how to replace Kendry Morales.
Rangers 9, White Sox 6: The Sox jump out to a 4-0 lead but then Mark Buehrle gets shelled and the Sox own mini-comeback falls short.
Astros 8, Nationals 7: Yet another game in which a team blew a big early lead. Must have been something in the water. Unlike some of the others, however, the Astros managed to salvage the game after squandering their. Lance Berkman went 3-5 with 5 RBI.
Marlins 6, Brewers 4: Trevor Hoffman came into a tie game in the seventh and promptly gave up three runs on three hits and walked two.  The end is nigh.
Indians 3, Tigers 2: Not a bad night for the Indians' organizational objectives: Jake Westbrook pitches seven strong innings, Russell Branyan hit a home run and Kerry Wood got the save. Good news considering that Cleveland wants to trade all three of them.