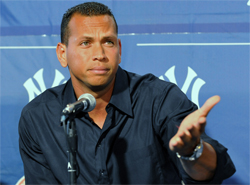 The HardballTalk audience is probably a little too manly for this next item, but we're throwing it out there anyway. 
Yankees slugger Alex Rodriguez appeared on the L.A.-based Ryan Seacrest Show today and touched on a few things, like drilling Indians pitcher David Huff in the head last week, possibly being chosen as an All-Star this year in Anaheim, and something called a "power balance" bracelet.
Seacrest is an easy target for haters because he's the host of American Idol, small in stature and still probably hangs with some of Los Angeles' finest.  But it's hard to knock a guy that hosts both a weekday morning and weekend radio show, drives the bus on one of the nation's most-watched television programs, and hosts some program called E! News.  Here in the United States we tend to appreciate hard workers, and I'm not sure that guy sleeps.
A-Rod, meanwhile, is batting .293 with a .374 on-base percentage, seven home runs and 41 RBI through 50 games this season.  He's the subject of a whole lotta hate as well, but usually for far better reasons.