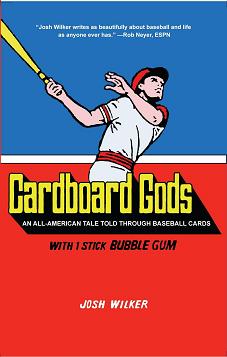 I'm only about two months late in getting a review out for this book, but (a) there are so many baseball books that come out at the beginning of the season that it may have gotten lost in the shuffle; and (b) better late than never.  Especially in this case, because it's a book you don't want to miss.
The book is Cardboard Gods: an All-American Tale Told through Baseball Cards. The author is Josh Wilker, who operates the Cardboard Gods blog that I've been reading for several years (and you should be too).
Like the blog, Cardboard Gods is essentially a memoir. Unlike your usual memoir, however, Wilker does not allow his personal life to stand alone, thereby creating that awkward moment that accompanies almost all non-celebrity memoirs in which you wonder why you're reading about the author in the first place. No, this has a hook: baseball cards. 1970s baseball cards to be precise, the titular Cardboard Gods with which the young Josh Wilker was obsessed as a child and which now help him organize and make sense of his memories and experiences.
As a hook — or a gimmick if you want to be crass about it — it's a highly effective one, especially for any reader who ever sorted commons or has even a passing familiarity with 1970s baseball.  Which, if you're reading this blog, you probably do.
For example, I may not be able to personally relate with Wilker's unconventional upbringing (he was raised for a time in a three-parent quasi-hippie commune of a house), but I know the story about Mike Kekich and Fritz Peterson, and Wilker's use of both Kekich's card and their story provides a nice frame of reference to the times and helps me understand just how a baseball-obsessed kid might choose to process the situation.
The same goes for death (Lyman Bostock's card and story provide a poignant touchstone), pop culture (a past his sell-date Mark Fydrich defines the ephemeral) and the brotherhood bond (The Reuschel's infamous 1977 "Baseball Brothers" card).  Sometimes the connections are obvious — Jim Rice launches Wilker into a contemplation of celebrity — but the more obscure cards frame the more interesting and insightful chapters. Jose Morales as the gateway to a lesson on what it means to feel useless? It works, baby.
But let's be clear about something: the baseball card hook is not the alpha and omega of Cardboard Gods' value.  They're a way in, to be sure, but that's really all they are.  Once you get in to each chapter, you're met with keen insight into what it means to be young, to be confused, to have dreams, to have passions, to have fears, to face failure and to persevere.  And not to persevere in some phony rah-rah fashion like you so often see in these sorts of books. No one beats cancer in this book, no one loses 100 pounds and no one runs a marathon in this thing.  It's just about living and understanding life like we all do, although not always in as reflective a way as Wilker describes it here.
I don't write about a lot of books here and I recommend even fewer. But I recommend this one because it gets the balance right. There's baseball here, no doubt, but the baseball isn't everything. It's merely something that adds flavor and understanding to life, much in the way our own experiences and memories add flavor to baseball.
If you have the means, seek out Cardboard Gods immediately, if not sooner.  You'll be glad you did.