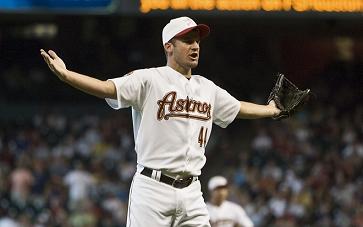 Someone at Major League Baseball needs to stage an intervention because the umpires are out of control. Last week we saw Joe West and Bob Davidson decide that the game was all about them. Yesterday it was Bill Hohn's turn.
The scene (which you can see here): the Astros-Nationals game. Hohn was behind the plate and had been rather erratic with the balls and strikes.  After Roy Oswalt registered his disgust with a call — with his back turned to the plate, mind you, so he wasn't barking at Hohn directly — Hohn comes out from behind the plate, takes his mask off and seems more interested in confronting Oswalt than officiating a ballgame.
Maybe the lip-readers among you can tell me differently, but to me it looks like Oswalt, when he noticed Hohn approaching, said "I'm not talking to you."  Apparently telling an umpire that you're not berating him is enough to get you ejected now, because that's what Hohn did to Oswalt.  In doing so he changed the complexion of the game, caused the Astros to unnecessarily tax their bullpen and likely affected the outcome of the next couple of Astros games.
Every single person in a position of authority, be they a boss, a teacher a judge or whatever is taught that to maintain respect and control you have to maintain your composure and be the more mature actor. Somehow the umpires never learned that lesson, because they seem to be picking fights right and left these days.
If Bill Hohn wants to make a point about his strike zone, the way to do it is to keep calling his game the way he wants to and let the complaints of others roll off his back. They'll get the message quickly. Instead he decided that his ego was more important than his authority and he wrongfully inserted himself into the game.
It was yet another shameful display by an umpire. Baseball had better do something about it quickly.