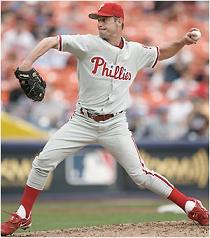 Jayson Stark points out something I hadn't noticed: Jamie Moyer is four homer runs allowed away from becoming the all-time leader in that category.  When he does it, he'll pass pformer Phillie Robin Roberts for the title.
A partner in my old law office once had a $100 million judgment entered
against his client following a month-long trial. We tried to give him crap over it and he said, in all seriousness, "anyone can win a $50,000 case, but it takes one hell of a lawyer to lose a
$100 million case."
And he was right about that. No one would ever give
some schmuck like me that kind of responsibility, and no one would ever give an ineffective pitcher so many chances to give up long bombs. It's like that with a lot of records. A Hall of Fame hitter is the all-time strikeout leader.  Nolan Ryan is the modern-era leader in games lost. The all-time blown saves list is filled with elite relievers.
Baseball is a game of failure (or so the saying goes). For a pitcher, giving up a home run is a failure of sorts.  But being around to give up as many as Jamie Moyer has is a testament to how someone works around their failures and compensates for them, thereby allowing them to, um, fail another day.
There's something kind of nice about that.