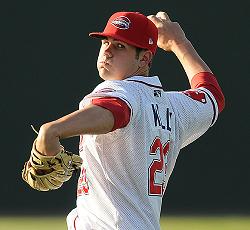 I think the game was on NESN, so more people in New England could see this than usual, but HBT reader Moses Green — who performs a valuable and gratuitous service in editing each morning's "And That Happened" — is vacationing in Maine and saw the Portland Sea Dogs and New Britain Rock Cats play in person yesterday afternoon.
The draw: Red Sox uber-prospect Casey Kelly took on Twins uber-prospect Kyle Gibson.  Kelly didn't have a good game, giving up six runs on 10
hits in four innings and change. Beyond the line score, I found Moses' scouting report rather interesting thanks to this comment:
The
verdict?  Kelly is a live-armed SS trying to learn to be a pitcher. Case in point, Kelly's
pickoff moves and bluffs are comically horrible. Gibson looks really good, really polished.  He already looks
like a pro.
As Moses notes, this is why you have scouts. Most of us just never think of that kind of thing, content to sit back and yell for teams to call up the big prospects on a timetable to our liking based on their stat lines.
For example, I barked about the Giants saying that Buster Posey isn't ready to catch in the big leagues and citing that as the reason for taking so long to call him up. But the only minor league action I ever see is whatever passes through Columbus Ohio, and Posey has never been here. I'm not paying attention to a whole host of other non-statistical considerations teams must make in determining whether a guy can play in the majors. Like, say, whether a guy can frame pitches. Or whether he has a decent move to first.
A small point, sure, but one about which I constantly have to remind myself when it comes to prospects.