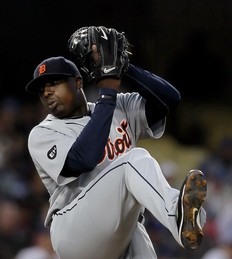 We knew about the Diamondbacks, but according to Joe Capozzi of the Palm Beach Post, the Mets, Brewers and Marlins are also interested in Dontrelle Willis.
We were hearing various tweets and emanations from the Mets this morning that they weren't really interested in Willis, what with already having their own walk-happy lefty. At least Willis is agreeable, however, so you think they'd rather have him around to walk people as opposed to Oliver Perez.
Mostly, though, this illustrates the flexibility of the word "interested."  I'm interested in having Willis come to my house to tell me stories about baseball and teach my son how to throw a curveball, but it's not so great an interest that I'm going to pursue it.
I think that may be the case with a lot of these teams. The Dbacks have a need to try something — anything — in their bullpen. The other guys are probably just saying nice things in response to a reporters' inquiry about a basically free pitcher.  Because really, for as much as I love me some D-Train and want him to succeed, I'm not sure how he helps anyone at the moment.