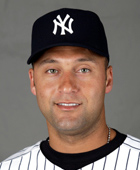 UPDATE:  Lineups were just announced for tonight's Yankees-Orioles tilt. The Captain will play. Damn. Now I owe Nick Swisher a million bucks. Hope he takes a check.
11:15 A.M. Derek Jeter got plunked on the leg during yesterday's game and ended up leaving when his hamstring stiffened up.
The injury is being characterized as minor, but when asked if Jeter would go in tonight's game against the Orioles, Joe Girardi said they'd have to wait and see. Nick Johnson Swisher is more confident, however, saying "He'll be back. I bet you a million dollars he'll be in the lineup." And I suppose he probably will be, Giradi's caution notwithstanding.
Can't help but wonder if he should be, though.  The opponent is Baltimore, the player in question is getting older and the season is still young.  No one on the planet is ever going to question Jeter's toughness, so he has nothing to prove here. But there is at least a little something to be gained, is there not, by giving the Captain an extra day to stretch out the kink in that hamstring? This is especially true now that he looks to be climbing out of his sluggish start (he's 17 for his last 35).  Why risk a nagging ache when a day off against the worst team in baseball may keep you that much fresher?
No, this isn't the most important thing in the world. I guess more than anything I wonder if Girardi actually makes this call or if Jeter does.