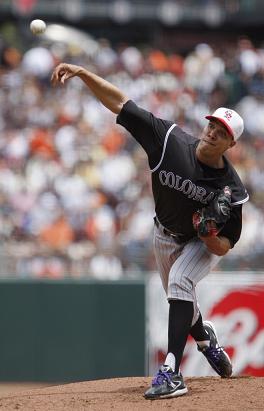 Rockies 4, Giants 0: The Cy Young Award is decided by something closer to tournament play than match play, but Ubaldo Jimenez's decisive defeat of Tim Lincecum has him covered in either direction (CG, SHO 4 H, 9K). Linecum appears to have lost his telemetry (5.2 IP, 6 H, 4 R, 5 BB, 3K).
Braves 9, Phillies 3: I hit
this one up yesterday. One thing I didn't mention in that writeup
was how hilarious it was when Yunel Escobar popped up at second base and
asked for time out after his third inning RBI. It was hilarious because
he was thrown out trying to stretch his single into a double, so there
really wasn't a need to call for time. You got thrown out, Escobar, take
all the time you want. Kind of like you did getting your kiester out of
the batter's box. Not that I have a lot to complain about in this one.
Padres 18, Mets 6: Yesterday Jerry Manuel seemed stumped when asked in what situation he might use Oliver Perez. I think we found our answer: the last 2.2 innings of a monumental blowout against what is supposed to be one of baseball's worst offenses.
Yankees 11, Indians 2: Andy Pettitte gave up one run over seven innings and A-Rod hit a grand slam and had six RBI.  The game stories play up the fact that Mark Teixeira was intentionally walked before the slam, but really it was a matter of Chris Perez trying to be careful with Teixeira, getting behind 3-0 and then Manny Acta deciding to just give him ball four instead of risking a pitch down main street.
Nationals 14, Astros 4: Ryan Zimmerman and Adam Dunn each collect four RBI and a guy listed in the box score as "C. Maldonado" who I know is Carlos Maldonado but whom, out of a fit of nostalgia, I'm going to pretend was Candy Maldonado, had three RBI of his own. Roy Oswalt was ejected for arguing balls and strikes after giving up four runs in two and a third innings. I'm going to assume that was an intentional passive-aggressive thing designed to make the Nats dubious about him so that he won't have to reject them via his no-trade clause in the event they make the Astros an offer.
Pirates 2, Cubs 1: That's six of seven for the Pirates over the Cubs this year. Would that they only played Chicago. Get this: Garrett Jones hit a homer to right field and a Cubs fan — a visiting Cubs fan, as this game was played in PNC Park — threw the ball back out onto the field.  I know that Pirates fans have had a lot of the fight taken out of them these past 17 years, but I hope against hope that a few of them came together to beat the living crap out of that punk. Um, figuratively speaking, that is. You know, with sharp bon mots and stuff.
Angels 7, Royals 1: Ervin Santana shuts down the Royals after which the Angels celebrate with subtle, affirming glances and modest smiles. Sadly Juan Rivera suffered a compound fracture of his jaw in the process and will be out for the remainder of the season.
Marlins 13, Brewers 5: After scoring three runs in three games against the Phillies the Feesh break out for 13 against Milwaukee — seven of which came in a single inning. The Brewers were actually up 4-0 in the sixth before the wheels fell off. Cameron Maybin hit an inside-the-park home run. As is usually the case, Maybin's was the result of bad defensive play — in this case a bad route to the ball by Carlos Gomez — which is why I'm generally unimpressed by inside-the-park homers.
Athletics 4, Tigers 1: Two teams going in opposite directions: the A's take three out of four from Detroit and the Tigers drop their fifth in six games. Time of rain delay before the game: 2:42; time of game: 2:48.
Dodgers 5, Diamondbacks 4: A walkoff balk from Esmerling Vasquez
completes the Dodgers' comeback from a 4-0 deficit. Feel the excitement.
Cardinals 12, Reds 4: A totally different game after the rain delay than
it was before. Both Jaime Garcia and Bronson Arroyo came back when play
resumed, but only the former had any command. Ten walks in all for Reds
pitchers.
Blue Jays 3, Rays 2: Brandon Morrow pitches his best game of the season,
not allowing a hit until the sixth inning and giving up only one run on
three hits. The Rays have now lost six of their last eight games.
Twins 5, Mariners 4: Michael Cuddyer and Jason Kubel hit back-to-back jacks in the fourth to give the Twinkies a 5-1 lead and they basically held on from there.  Cuddyer got the start at second base, which is rather fun. He last did that in 2005.