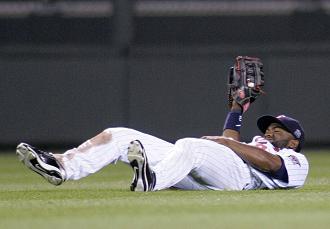 Kendry Morales hurt himself after a walkoff homer on Saturday.  Another bittersweet game-ending play occurred last night as Denard Span's awesome game-ending catch in last night's Rangers-Twins tilt resulted in Orlando Hudson writhing on the ground.
The game's final out occurred on a pop fly that was heading towards no-man's land between second base and centerfield.  Span turned on the afterburners to charge the ball, calling off Orlando Hudson, who was racing back for it himself.  Hudson couldn't see Span waving him off because Hudson was looking back over his shoulder while running for the ball. I'm assuming the crowd noise drowned out the yo la tengo.
The result: Span's left leg clipped Hudson's right, sending both of them flying.  Span caught the ball and came up holding his manly bits, but generally no worse for wear. Hudson stayed on the ground writing, having apparently hurt his hand.  Check it out here. Hudson had X-rays after the game, but the results won't be known until today.
The Morales injury has managers reconsidering post-victory celebrations today.  No word on whether the Hudson injury will have managers re-thinking game-winning catches.