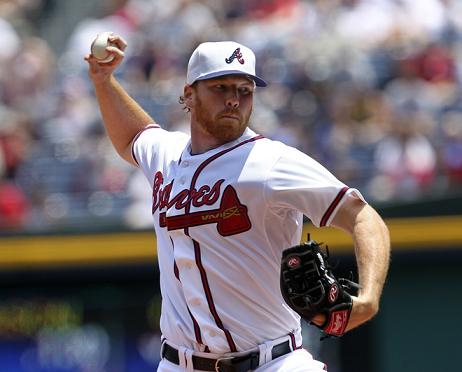 I said at the beginning of the season that the NL East was going to be a tight one this year. I also said that the Braves would win it. Neither of those calls looked particularly prescient for the first several weeks of the season as the Phillies started off as one of the hottest teams in baseball — scoring runs in bunches — and the Braves treated April like it was extended spring training.
But it's a brand new season now, as the Braves took advantage of a struggling Phillies team in the past week or so and beat them soundly today — 9-3 — in order to take over first place.
Most of the damage was done against Joe Blanton, who obviously didn't have it at the start of the day's game. Many balls were hit hard, including a homer by Chipper Jones. Blanton had some help, though, by some indifferent Phillies defense that allowed Braves' runners to take extra bases and a Phillies offense that continued to squander opportunities early.
Braves' starter Tommy Hanson wasn't too sharp himself in the early going, but he settled down in the third inning and cruised through the remainder of his day, finishing with only one run in 6.2 IP, and that run was an inherited thing allowed by reliever Peter Moylan.  The Phillies went on to score two more off the Braves' bullpen in the seventh, but all of that headway was lost when Troy Glaus hit a three-run homer off Chad Durbin in the bottom half of the inning.
The Braves won 20 games in May. They're obviously on fire and will fall back to Earth soon. The Phillies have looked awful lately. They're obviously a supremely talented team and they will bounce back.
But for now the Braves are in first place and, at the very least, I'm feeling very confident about my prediction of a close race.