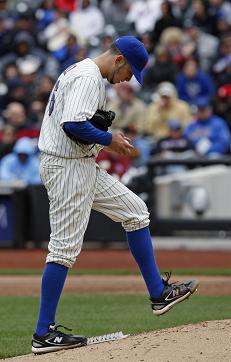 News flash: Oliver Perez is having a pretty terrible year. He has walked 32 dudes in 26 innings against only 29 strikeouts and has an ERA of 6.25. His demotion to the bullpen hasn't helped anyone either, with his latest performance coming Saturday against the Brewers when he gave up three runs just as the Mets started to rally themselves.
Now two anonymous Mets players are telling the New York Post's Mike Puma that they want Ollie gone:
"You tell him you go to Triple-A or that's it, you are finished," one
Mets player said, well aware that Perez is still owed about $20 million
on the three-year contract he signed before the 2009 season.

A
second Mets player echoed that line of thinking.

"At some point you have to cut bait," he said. "You owe him a lot of
money, but for what?"
The need for the ultimatum, of course, is that as a veteran in the middle of a big multi-year contract, Ollie must give his permission before accepting a minor league assignment, and Scott Boras clients just don't do that. What they do do, however, is leave the team once they're designated for assignment, because they have no choice.  Likewise it seems like the Mets have little choice but to do the designating.
Perez is terrible, there's nowhere to hide him and he has lost the confidence of his teammates and his manager. Indeed, Puma asked Jerry Manuel when, exactly, he'd consider using Ollie. Manuel's answer: "That's really a tough question. [Maybe] extra innings or
something like that, but it's going to be tough to find spots for him." The response to that by one of the anonymous players:
"What, we need another 20-inning game and then use him after we've used
all our pitchers and if a position player's sinker isn't biting?"
Wow. It's one thing to have a useless player on the team. It's another thing to have a useless player who is being openly mocked by his teammates. $20 million is a lot of money to flush down the toilet, but it's time for the Mets to do it.