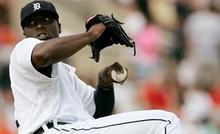 UPDATE: The Diamondbacks have confirmed their interest in Willis, according to Gilbert.
"We are at least considering him," D-backs general manager Josh Byrnes
said Monday.

8:55 PM: According to Steve Gilbert of MLB.com, the Diamondbacks have had discussions with the Tigers about acquiring Dontrelle Willis.
Willis, 28, was designated for assignment by the Tigers on Sunday after posting a 4.98 ERA, 1.78 WHIP and a 33/29 K/BB ratio over his first nine appearances (eight starts) this season. The enigmatic left-hander was just 2-8 with a 6.86 ERA during his disappointing tenure in Detroit, averaging a disturbing 8.2 BB/9 over 101 innings.
According to Nick Piecoro of the Arizona Republic, Willis' agent Matt Sosnick said that Arizona is one of the places his client "would rather play." In fact, Willis and his wife were already in the process of buying a home in the Phoenix area. More broadly, Sosnick said "Out West in the National League would be his
choice." He's not the first pitcher to look out west for revitalization.
The Tigers have a little over a week to work something out, but whether they decide to release him, trade him or put him on waivers, they'll be responsible for virtually all of his $12 million contract for this season.
As for the Diamondbacks, they have apparently seen enough of Billy Buckner that they feel it's worth sending a marginal prospect the Tigers' way to try to catch lightning in a bottle here. I don't have much optimism that he can turn things around in the desert, but maybe his bat (eight career home runs) can keep them in a few games.