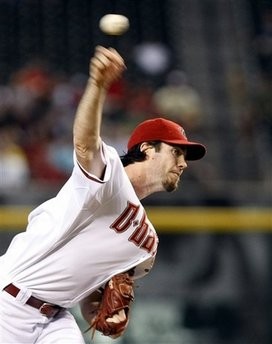 Rosenthal's latest column reveals that the Diamondbacks "are discussing internally the possibility" of trading starters Dan Haren and Edwin Jackson. That sounds about two steps removed from something actually happening, but let's talk about it anyway.
Haren would be a great pickup by a contender. Sure, he's got a 5.56 ERA, but his K/9 ratio (9.2) and his K/BB (5.07) are just spiffy. Ground balls with eyes? A few too many dying quails? Maybe. Fact is, the guy is a freakin' horse, having logged no fewer than 216 innings since coming over to Oakland in the Mark Mulder deal.
Jackson is obviously less of a prize. Electric when he's on but frustratingly inconsistent, he has earned far more of his 6.03 ERA than Haren has.  He's a play for starting depth more than anything. And he could be a good one at that. After all, he was a part of the 2008 Rays rotation, so you can win with this guy.
I think the larger point to be taken from this is that the starting pitching pool at this year's deadline — already pretty deep — is getting deeper.