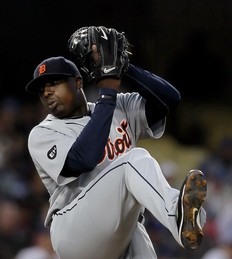 As first reported by the Tigers' own official team Twitter feed, left-hander Dontrelle Willis has been designated for assignment to clear room for the promotion of Sunday's starter, Max Scherzer.
Thus ends an era, for lack of a better term.  Willis, now 28, joined the Tigers on December 5, 2007, as part of a massive trade from the Marlins that also involved Miguel Cabrera.  He signed a three-year, $29 million contract extension soon after the transfer was complete, and that's when the problems began. 
D-Train made only seven starts in his first year with the Tigers and allowed 25 earned runs in 24 innings — good enough for a 9.38 ERA and a 2.21 WHIP.  Things got no better in 2009 and he continued to show ineffectiveness this season.
Perhaps a move back to the National League will help Willis revitalize his career.  It's worked so far for Carlos Silva, and countless others have enjoyed similar success.  Either way, his time in Detroit, wearing the Olde English "D," will not be remembered fondly.