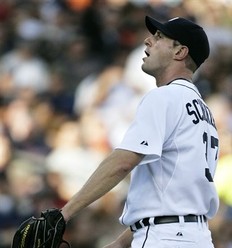 The Tigers made the right move in demoting Max Scherzer to Triple-A Toledo two weeks ago after he rattled off a 1-4 record, a 7.29 ERA and a 1.67 WHIP through his first eight starts in a Detroit uniform.  And it will really seem like the right move now.
Scherzer, 25, allowed just one run over two starts during his time with the Toledo Mud Hens and tallied a 17/2 K/BB ratio in 15 innings.  He was called back to the big leagues on Sunday morning and just completed 5 2/3 innings of scoreless ball against the A's, striking out a career-high 14.  The Tigers won 10-2 and Scherzer allowed only two hits.
Scherzer is a talented kid and should be an asset to the Tigers' staff for many years to come.  He simply struggled with his confidence through the first six weeks of the regular season and had a hard time adjusting to life in the American League, where pitchers are forced to face an extra highly-paid slugger — the DH. 
The fact is he posted a 4.12 ERA and a 174/63 K/BB ratio in 170 1/3 innings for the Diamondbacks last season and is plenty capable of replicating those kind of numbers in the AL Central.