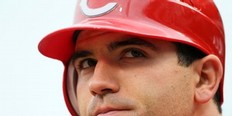 Reds first baseman Joey Votto will miss his fifth consecutive game on Sunday due to a stiff neck.  He ran and threw on Saturday, according to MLB.com's Mark Sheldon, and will try to take batting practice this afternoon. 
But he's unlikely to return to the Cincinnati starting lineup until Monday, or maybe even Tuesday when the club begins a crucial three-game set with the Cardinals.
"I feel better," Votto said. "It's hard to go from nothing to a game
without batting practice. I anticipate I will hit today, do my
exercise, running and throwing. We'll see how it feels from there."
The 26-year-old Votto is batting .312 with a 961 OPS, 10 home runs and 33 RBI through 170 at-bats this season and the Reds hold a two-game lead over the Cards in the National League Central.