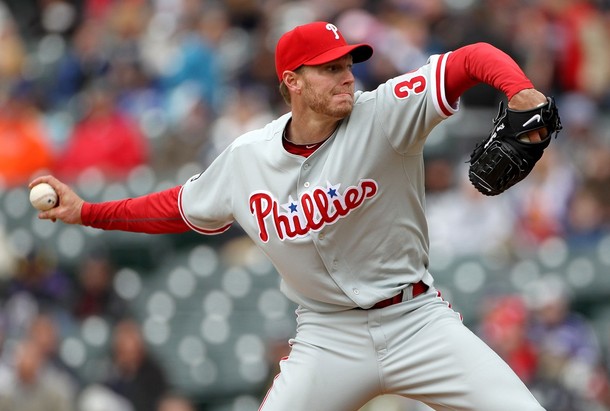 Roy Halladay captured the nation's attention on a sports-heavy Saturday night, throwing the 20th perfect game in Major League Baseball history as the Phillies defeated the Marlins 1-0 in south Florida.  Let's take a trip around the baseball world for some unique reactions to the perfecto:
Jeff Passan of Yahoo! Sports noticed some rather deep counts and an amazing will to battle back:  "The difference between brilliance and immortality is one pitch, and
seven times Halladay ran the count to three balls only to bail himself
out."
Sports Illustrated's Joe Posnanski saw it coming in the fifth inning:  "Halladay was so sharp, so on, so confident, so much in control, that he
turned the improbable into the expected, he made a perfect game feel
oddly routine."
ESPN's Jayson Stark points out that few great pitchers ever get a taste of perfection:  "There are 67 pitchers in history who have won a Cy Young Award. And
before Saturday, only four of them ([Sandy] Koufax, [Catfish] Hunter, [Randy] Johnson and David Cone) — not to mention Cy Young himself — ever managed to throw a perfect game."
David Brown of Yahoo's Big League Stew calls Halladay the "perfect pitcher" to throw a perfect game:  "I view Halladay like Quint looked at great white sharks in "Jaws." He saw them as the perfect killing machines. Emotionless, except for a certain amount channeled of rage when they attack."
Frank Fitzpatrick of the Philadelphia Inquirer remembers the last Philadelphia pitcher that recorded 27 straight outs, Jim Bunning:  "He estimated that additional commercial opportunities generated by the perfect game added $15,000 to his $30,000 salary in 1964."
MLB.com's Alden Gonzalez saw a different side of Halladay the moment he completed the perfecto:  "Before being surrounded by teammates, a usually stoic Halladay smiled
ear to ear and extended his arm to receive a warm embrace from his
catcher, Carlos Ruiz, who he gave a lot of the credit to for his gem."
The Phillies have been in a highly publicized offensive slump as of late, but there's no doubt that this club will be competing once October rolls around.  Halladay has been superb all season and, taking into account Saturday's perfecto, is 7-3 on the year with a 1.99 ERA, a 1.00 WHIP and 70 strikeouts in 86 innings.  He's an early favorite for NL Cy Young Award consideration alongside the Rockies' Ubaldo Jimenez, who made a little history of his own this season with a no-hitter against the Braves.  It's not the worst time to be a baseball fan.