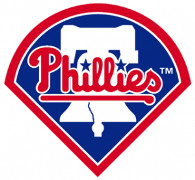 The Phillies hadn't scored a run in 30 innings dating back to Sunday until Raul Ibanez knocked in Ryan Howard with a fourth-inning triple on Friday night. The Phillies added two more runs and defeated the Marlins 3-2 to end a five-game losing streak.
Shane Victorino had my favorite quote of the night (via Martin Frank of the News Journal):
"We were all excited," Phillies center fielder Shane Victorino said. "We forgot what it was like. We were shaking hands and I forgot
what it was like to high-five guys after a game. My hands were
fossilled."
With the win, the Phillies maintained their 1 1/2 game lead over the Braves in the National League East, but it wasn't all good news on Friday night. According to Alden Gonzalez of MLB.com, Placido Polanco will undergo an MRI before Saturday's game, the result of lingering soreness in his left elbow after being plunked by Tim Hudson on April 21. Still, Polanco is batting .313/.352/.469 with three homers and eight RBI through 96 at-bats this month.