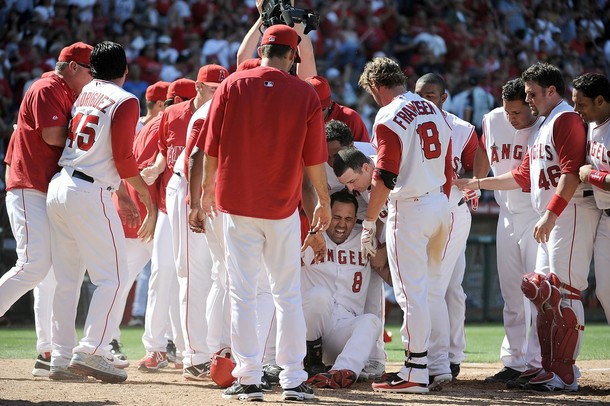 The Angels beat the Mariners in the 10th inning Saturday thanks to a walkoff grand slam delivered by first baseman Kendry Morales.  And that's where the fun ended.
Morales got airborne as he neared a pile-up of  Angels players at home plate and injured his ankle on the way down.  He looked to be in a good deal of pain and had to be carted off the field after lying in the batter's box for several minutes.  The Halos didn't reveal much information after the game, but X-rays eventually revealed a fracture in his lower left leg, according to the Los Angeles Times.
The 26-year-old Morales is batting .290 with a .346 on-base percentage, 11 home runs and 39 RBI in 51 games this year.  There's a strong chance that he could be out for several months.