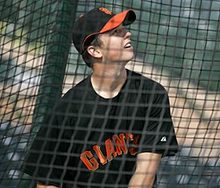 Last night, a source told Andrew Baggarly of the San Jose Mercury News that the Giants were going to call up Buster Posey before Saturday's game against the Diamondbacks.
Well, Ed Price of AOL Fanhouse and ESPN's Buster Olney just confirmed it. Posey is on his way back to the big leagues.
On Friday afternoon, Craig pointed us to a post where Baggarly assumed Posey would play first base upon his promotion and he held true to that belief after Friday's news:
Posey started at first base for the second consecutive time Friday
night. Cuuurious. It's a pretty safe assumption he was doing
more than just resting his knees from catching. He was 2-for-3 with a
double, a walk and an RBI, lifting his PCL average to .349.

I think Posey will get most of his starts at first base, with Aubrey
Huff moving to left field. But Bengie Molina was hitless again Friday
night and extended his streak to 19 games without an RBI. He's hitting
just .203 in May.
In other words, as opposed to last September, Posey will actually play this time.
Posey, 23, is batting .349/.442/.552 with six home runs and 32 RBI over 172 at-bats with Triple-A Fresno this season. The 2008 first-round pick has a .333/.427/.542 batting line in parts of three minor league seasons. Even better, he has a 102/98 K/BB ratio in 750 plate appearances. He'll bring some much needed patience to a lineup that has severely lacked it for quite some time now.
By the way, Posey will be a "Super Two" if he is up in the big leagues to stay. Remember, he already has 33 days of service time due to his call-up last season.