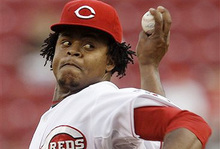 Edinson Volquez, who is currently working his way back from Tommy John surgery last August, threw 60 pitches at Great American Ballpark on Friday, according to John Fay of the Cincinnati Enquirer.
"He looked great," Reds general manager Walt Jocketty said. "He threw
all his pitches. He really looked good."
While he is on the disabled list, Volquez is concurrently serving a 50-game suspension for testing positive for performance enhancing drugs. Though he is not being paid, Volquez is allowed to go out on a minor league rehab assignment during the suspension, which ends on June 13. Reds general manager Walt Jocketty said Volquez is "probably" a few weeks away from that.
In the meantime, Volquez is scheduled begin pitching in extended spring training games in Arizona. The Reds hope to have him back sometime after the All-Star break, whether in late July or early August. It's hard to expect much from him, but similar to what Tim Hudson did for the Braves last season, Volquez could provide a nice late-season boost if the Reds manage to stay in the race.