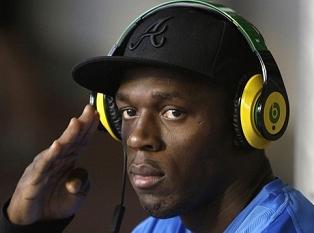 Matt Stroup over at Universal Sports has noted that sprinter Usain Bolt has some conflicting baseball loyalties.  Recently he was spotted wearing a Red Sox cap. Yesterday, he had on a Braves cap. Jamaica doesn't have a team so all is forgiven, but the image of the fastest man on the planet in a Braves cap did give me a quick, cheap thrill.
Would it be worth it to sign the guy and make him a pinch runner?  It's been done before: The Athletics signed track star Herb Washington to be their full-time pinch runner for the 1974 season.  Washington scored 29 runs and stole 28 bases in 91 games without once coming to bat or playing defense.  But even the A's — who were pretty crazy about pinch runners in general back in the Charlie O. Finley days — didn't think so much of Washington that they kept him around. He was cut early into the '75 season and was never heard from again in baseball circles.
The problem: he was just too one-dimensional. And he wasn't really that great in that dimension: in two seasons he was caught stealing 17 times in 48 attempts, which is below the level of success that makes stealing bases a value-added proposition (you usually want to see a 75% success rate or higher).  Washington's failure as a pinch runner clearly shows that there is way more to stealing bases than speed. Indeed, there was probably no one faster than him in the game at the time. But you have to be able to read pitchers' moves and pick your spots, and to do that you need experience.
These days it would be even harder for a guy like Washington — or Bolt — to make that job work because (a) stealing is way less a part of the game now than it used to be; and (b) roster spots are just way too precious to be used on a runner.  In 1974 the A's basically had a nine-man pitching staff.  Today teams typically carry 12 pitchers and, on occasion, go with 13. Yeah, that's ridiculous, but it's how it is, and as a result a baseball team in 2010 would be more likely to sign a chef who only prepares bear steaks than it would be to sign a pinch runner.
The upshot of all of this is that I can see only two situations in which Usain Bolt would ever appear in a major league game. Either as (a) a pure gimmick, on a losing team after the rosters expand in September; or (b) after someone teaches him to shag flies and decides that they can stick him in left-center and thereby eliminate one of their three outfielders.
Given that Nate McLouth is currently patrolling center for the Braves, I'm not sure that a Bolt-Heyward outfield isn't a bad idea.