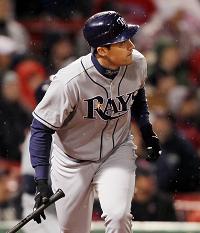 The Chronicle's Henry Schulman reports that the San Francisco Giants are "in the talking stages" with Pat Burrell over a minor league deal.  Schulman's source tells him that Burrell "has other options," however.
I'm assuming those options include his recliner, beers with his dad's friends at the VFW hall and other activities that people who can't really play baseball anymore do, but I suppose time will tell.
Not that he would be a terrible signing for the Giants, especially as a minor league deal.  I mean, he's only 32, and in Giants years that's like being 25, so some time in Fresno could give the kid some needed Sabean seasoning in advance of contributing to what appears like it will be a Mark DeRosa-less left field for most if not all of the rest of the season.
Burrell has played in the outfield exactly twice since 2008 so it would be an adventure, but the Giants need offense wherever they can get it at the moment.