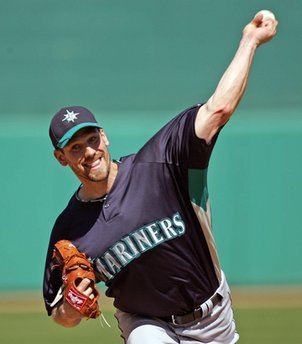 Jon Heyman runs down the big ticket trade targets this summer.  Heyman's candidates:
Cliff Lee.  Makes sense to me on some level but I'm a bit skeptical. The Mariners are a disappointment this year, but I don't think they're a team that thinks it's tearing down and rebuilding. If they have a chance to sign Lee, I have to think they'll stick with him.
Roy Oswalt and Lance Berkman: Heyman has a hard time seeing anyone who both (a) can pick up Oswalt's salary; but who is also (b) a team Oswalt wants to play for.  But we heard the same thing about Jake Peavy last year too, didn't we?   I think that the longer the Astros suck and the more teams who express a moderate interest in Oswalt, the more flexible he becomes on his no trade.  It would not surprise me at all to see him in Queens or Los Angels sometime this summer.
Prince Fielder: Heyman is sharply pessimistic about the Brewers' chances to sign Fielder. Given the agent involved, it's probably worth giving such an impression more than the usual credence.
Ben Sheets:  Heyman quotes an AL GM who says Sheets needs to show more consistency before he's a legit trade chit, but the deeper we go into the season the easier it is to make an argument for consistency. By mid July, the definition of consistency might be 2-3 decent starts.
Paul Konerko and A.J. Pierzynski: Konerko can veto a trade and Pierzynski will be able to within a couple of weeks due to his 10-5 rights kicking in.  Heyman thinks that people will be more interested in Bobby Jenks and J.J. Putz. I think he's right.
Other candidates: Adam Dunn, Kevin Millwood, Jake Westbrook, Dan Haren, tons of Royals players, Adrian Gonzalez, Heath Bell.  From this list all I can note is how crazy it is that Adrian Gonzalez is only considered a marginal trade candidate this year.  One wonders if the Padres' great run in the early going — which makes Gonzalez all but indispensable — isn't hurting them in the long run.  They're not going to sign the guy, right?  How worse will the prospects they ultimately get for him this offseason be than the ones they could have gotten this summer?
Anyway, it's only Memorial Day weekend, but it seems like the trade winds are blowing stronger than usual for this time of year.  A lot of guys are going to be available.  It's really going to be a buyer's market, it seems.