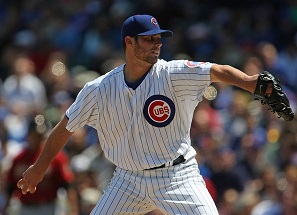 The Cubs are playing the Cardinals this afternoon. Randy Wells got the start. It went like this:
RBI single for Albert Pujols;
Single for Matt Holliday;
RBI single for Colby Rasmus;
RBI double for Yadier Molina;
5-0 lead for the Cardinals before an out was ever recorded, and Wells is out of the game.  Assuming Carlos Zambrano's digestive system can be restored to order, you have to figure that it will be Wells' turn he takes when he returns to the rotation.