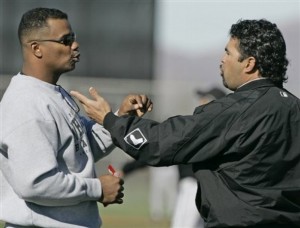 That's what Fred Mitchell and David Kaplan of the Chicago Tribune are reporting:
"Kenny and Ozzie do not have anywhere near the relationship they once
had and it appears that they only deal with each other when absolutely
necessary," said a longtime scout who has been around the big leagues
for a long time. "If the team continues to struggle throughout the rest
of the season it could become a bigger problem that will have to be
dealt with."
I'm reminded that Guillen and the Sox are part of that MLB Network reality show this year.  How much of the strain in the relationship is a function of the team losing and how much of it is a function of people on reality shows going all drama queen at the drop of a hat in order to play up for the cameras?  Even seemingly normal people are cajoled into acting ridiculous for these things. Of course, it's Ozzie we're talking about, so why I'm making references to normal people is beyond me.
Anyway, I think Ozzie's job is safe because, as Mitchell and Kaplan note, team owner Jerry Reinsdorf loves him.  Kenny Williams on the other hand?  That's a really good question.