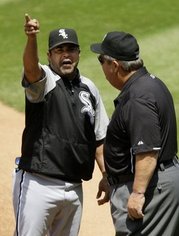 White Sox manager Ozzie Guillen, left-hander Mark Buehrle and umpire Joe West were all fined an undisclosed amount for their actions during Wednesday's White Sox-Indians game, a source tells Barry M. Bloom of MLB.com.
West, who was the first-base umpire in the matinee game, ejected Guillen after Buehrle was called for a balk in the second inning. Buehrle was given the boot just one inning later after being called for a second balk and tossing his glove to the ground.
According to the Associated Press, West — who is also the head of the umpires' union —  was already penalized for soliciting the media regarding his infamous comments about the Red Sox and Yankees in April. We're guessing he's going to be on his best behavior from here on out. He should be, anyway.