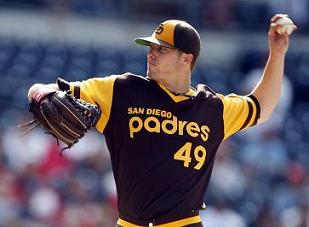 Cardinals 8, Padres 3: The Padres lost, but they looked damn good
losing in those mustard and brown throwbacks.  Pujols hit a homer. It's hard to say that a guy with a .900+
OPS is struggling, but he is, so the dinger had to feel good. Brendan Ryan had to be feeling good too, after a 4 for 4 day with a homer, an RBI and a stolen base.
Mets 3, Phillies 0: The Phillies probably need to start calling the Mets "daddy" here pretty soon, as New York shuts out the Phillies for the third straight game.  It's the fourth time in five games the Phillies have failed to score a run. Mike Pelfrey, this time.  Only silver lining: the last time this happened to the Phillies was 1983, a year in which they won the pennant.
Reds 8, Pirates 2: As God is my witness, Charlie Morton has started and lost four or five games in the past week.  Really, every time I look at a Pirates box score Morton is the starter and he's given up five or six runs in two or three innings. Without looking, I'm going to guess that he's 0-18 right now with a 11.25 ERA and has infected three dozen people with swine flu.  How close am I? I'm close, aren't I? Yeah, I knew it.
Giants 5, Nationals 4: Freddy Sanchez got spiked in the face. In. The. Face. But he stayed in the game and a hit two-run single that put the Giants in front to stay.  "Those are the situations that you want to be in as a player," Sanchez
said after the game. "There's nothin' better than gettin' your face aerated to prepare you for the big hit," he did not add.
Rockies 8, Diamondbacks 2: Troy Tulowitzki is on a tear. A two-run homer last night makes it five dingers in the last week. He's on an 11-game hitting streak and has raised his OPS 100 points in May. And what the heck is up with Dan Haren? Eight runs on ten hits in six and a third, raising his ERA to 5.35 on the year.
Cubs 1, Dodgers 0: Ted Lilly shuts out the Cubbies over seven. Sure, he cheated a little bit by not standing on the rubber, but when was the last time you saw a batter who didn't have a foot out the back of the batter's box?
Brewers 4, Astros 3:  I hit this up yesterday, though when I first wrote it, I said it was Chris Gomez with the single rather than Carlos Gomez.  I guess Chris Gomez was a such a fungible journeyman for so damn long that I just figured, yeah, he could be playing for the Brewers right now.  I mean, he and Terry Mulholland are probably roommates, right?
Rays 5, White Sox 1: There hasn't been a team this happy to change its Sox in a long time.
Royals 4, Red Sox 3: Joe West was the home plate umpire. The game took 3:03.  Dice-K walked eight guys in four and two-thirds. I'm curious to see if this was a function of the return of the deliberate, nibbling Dice-K we've come to know and love, or if West was squeezing the Sox because he's a big flaming jackass.
Athletics 7, Orioles 5: Brad Bergesen was cruising until the eighth, gave up a couple of singles, left the game with a 5-2 lead and — stop me if you've heard this one before, Orioles fans — then watched as the bullpen frittered it away.
Twins 8, Yankees 2: Jason Kubel homers twice and racks up five RBI. Javy Vazquez's ERA goes up to 6.86. The Yankees now embark on series against Cleveland, Baltimore and Houston.
Braves 8, Marlins 3: A rain delay knocks Tim Hudson out before he can get the win. More importantly for the Braves, the rain knocked Ricky Nolasco out and allowed them to get to the Marlins bullpen.