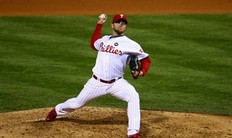 Phillies reliever Brad Lidge tossed a successful bullpen session before Thursday's game at Citi Field and could be activated from the disabled list as soon as Monday, according to MLB.com's Todd Zolecki.
Lidge threw 40 pitches in the short workout and reported no pain or discomfort in his throwing elbow.  He was placed on the 15-day disabled list back on May 10 with right elbow inflammation and was given a cortisone shot about a week later that seems to have worked like a charm. 
Jose Contereras has been manning ninth-inning duties for the Phils with Lidge sidelined and owns a lights-out 0.63 ERA and 0.70 WHIP through 16 appearances.  Contreras is probably going to hang onto the gig unless Lidge starts blowing batters away right out of the gate.  Based on what we've seen from Lidge lately, that's not likely to happen.