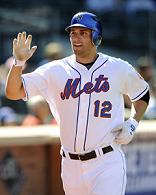 Such a proposition should not need much explaining — and even attempting to explain it should not be interesting — but I'll be darned if an article from Mark Bradley of the Atlanta Journal-Constitution explaining that very proposition isn't both illuminating and interesting.
Not so much because of the two players themselves — you know how I feel about both Heyward and Francoeur — but because of what it says about the differences between the baseball mindset (Heyward) and the football mindset (Francoeur).  I've never really thought too hard about Jeff Francoeur as a football player, but I can't help but think that my distaste for him as a player has just as much to do with my perceptions of his mentality than they do his performance for my team.
Indeed, Francoeur now plays — badly — for a team I don't much care for. This should make me happy on some shallow level. It doesn't though. I'm still just as frustrated at him now as I was when he played for the Braves.  And I think it has to do with the temperament issues Bradley hits on in his piece more than anything else.