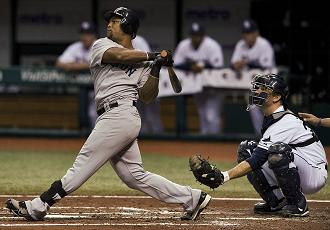 Red Sox 11, Rays 3: I'm going to imagine the next Shaughnessy column: "Theo Epstein and his calculator cavalry wowed all the stat-butts eating Fruit Rollups in their step-dad's carports by selling them on 'run prevention.'  Well, from where I'm sitting, scoring 11 runs against the best team in baseball is not 'run prevention.' And what's with Adrian Beltre going 4 for 6 with two homers, a triple and six RBI?  I thought he was there for his glove? Note to Theo: call me when you stick with a plan, because from where I'm sitting you're just making this up as you go along."
Mets 5, Phillies 0: The Phillies get shut out for the second game in a row, this time courtesy of Hisanori Takahashi and a trio of relievers. Word is that Charlie Manuel held a closed door meeting after the game. According to Shane Victorino,  Cholly simply told his team to "play with some intensity . . . no reaming. No yelling at anybody." Good thing too, because if he did people would start filling up his comments section calling him a hater for doubting the Phillies' greatness.  Oh, and don't look now, Philly, 'cause something might be gainin' on ya. As in, the whole NL East, which is within 3 games of y'all.
Yankees 1, Twins 0; Yankees 3, Twins 2: Yeah, I know the first one was technically yesterday's game but it's not like I'm going to go update the Wednesday ATH, so let's just pretend that this was a doubleheader.  In game one Jeter hit a dinger that held up and threw in one of those patented jump-throw things he doesn't need to do.  Andy Pettitte pitched a gem in the second one, getting the win when Nick Swisher hit the daylights out of one out to right field in the top of the ninth.  Mariano saved both of them because he's less man than machine.
Reds 4, Pirates 0:  The Pittsburgh Pirates: when you absolutely positively have to get a shutout.  Seventh one against them this year. Three of them courtesy of the Reds. Last night it was Arroyo for seven and two-thirds.
Braves 7, Marlins 3: Tommy Hanson walked five dudes, but otherwise bounced back from his worst start as a major leaguer to allow two runs on four hits.  The Marlins had a 2-1 lead until the Bravos exploded for six runs in the seventh.
Angels 6, Blue Jays 5: If Bobby Abreu hadn't made an error in the top of the ninth, the Angels wouldn't have had to bat in the bottom of the ninth.  Yet if the Angels didn't bat in the bottom of the ninth, he wouldn't have had a chance to hit his game-winning single.  There are monks who spend their whole lives on mountaintops in silent contemplation and intense prayer trying to figure this kind of crap out, you know. That's why baseball friggin' rocks.
Athletics 6, Orioles 1: Brian Matusz allowed six earned runs in five innings. Adam Rosales was 3 for 4 with a homer and 4 RBI. From the game story: "The Orioles gave away Nolan Reimold bobbleheads to fans entering the ballpark, even though
Reimold was optioned to Triple-A Norfolk on May 12." That's the saddest thing that has happened at Camden Yards since Robin Williams' wife got shot down in the "Bop Gun" episode of "Homicide: Life on the Street."
Astros 5, Brewers 0: Roy Oswalt: 8 IP, 4 H, 0 ER, 9K and absolutely no reason to be toiling for this Astros team anymore.
Mariners 5, Tigers 4: A big two-run homer from Mike Sweeney followed by a two-run single from Josh Wilson gives the M's a come-from-behind victory.
Royals 5, Rangers 2: Luke Hochevar allowed only two runs on six hits, striking out four and walking
none in eight innings.  We've seen flashes like this from him before. Here's hoping he's finally putting it together.
White Sox 5, Indians 4: Bobby Jenks allowed
three runs to score and had two runners sitting on base with nobody out.  But then Manny Acta decided that merry-go-round was spinning too fast and ordered a bunt which (a) gave the Sox something they hadn't been able to get yet (i.e. an out); and (b) took the bat out of Shin-Soo Choo's hands due to him being intentionally walked to fill the now-open first base. Jenks then struck out
Austin Kearns and got Russell Branyan to fly out and that was that.  Gee, if only they had one more out to play with, I'm sure they could have gotten the tying run home from third and lived to play on!  Sadly, there was absolutely nothing whatsoever that could have been done about it, what with the Moral imperative to bunt and all.
Rockies 7, Diamondbacks 3: Ubaldo does it again: eight innings of shutout ball, lowering his ERA to 0.88.  Just ridiculous.
Nationals 7, Giants 3: We've secretly replaced the fine pitching performance Tim Lincecum usually serves with Folger's Crystals (4.2 IP, 6 H, 6 ER, 5BB).
Padres 2, Cardinals 1: You wanna know how you do it? Here's how, they score zero runs, you score one. They score one run in 13 innings, you score two! That's the San Diego way!
Dodgers 8, Cubs 5: The game was delayed for 18 minutes in top of the fourth inning after a
nearby fire caused the lights to go out at Wrigley Field. This trick is known in the Cubs' organization as "pulling a Mrs. O'Leary with a Vicki Lawrence twist" but it didn't work this time.