Prior to getting thrown out of this afternoon's game, Ozzie Guillen autographed a baseball for one of the fans in Cleveland and added a little personalized touch: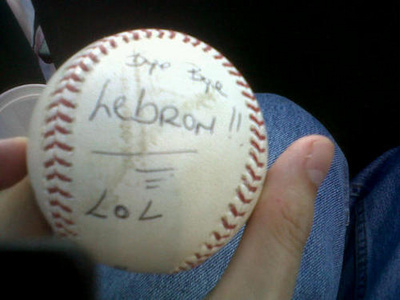 Incidentally, the White Sox recovered from Guillen and Mark Buehrle being tossed by umpire Joe West to take a 5-1 lead. Bobby Jenks did his best to blow it in the ninth inning, allowing three runs to score and putting two runners on base without recording an out, but then Indians manager Manny Acta went into small-ball mode.
Acta ordered a bunt, which a) gave a struggling pitcher his first out, and b) opened up first base so the White Sox could intentionally walk the Indians' best hitter, Shin-Soo Choo. Jenks then struck out Austin Kearns and got Russell Branyan to fly out, escaping with a 5-4 win.
Guillen was probably sitting in the clubhouse, watching on television and thanking Acta for the help.