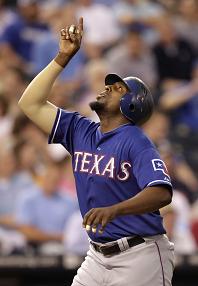 How do you know Vlad Guerrero is back?  He's back to hitting ridiculously horrible pitches with authority.
Check out the video of his RBI double in the seventh inning from last night's game against the Royals.  It was a sinker inside — way inside — that he just turned on and sent down the leftfield line.  Watch it closely: I think there's a non-trivial chance that, if he doesn't swing at it, the ball plunks him in the thigh.
Best part: as he comes into second base and thinks about third he is running like Fred Sanford, which is something that never gets old for me.
Oh, and the guy also had two two-run homers last night to finish the evening 3 for 5 with five RBIs, so like, Viva Vlad.