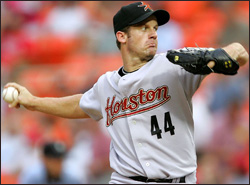 ESPN Los Angeles' Tony Jackson reports that "a source with knowledge of the situation, speaking on condition of anonymity" said that the Astros aren't looking to trade Roy Oswalt right now.
Of course we always hear this about big trade chits. Remember last year how J.P. Ricciardi was saying that he wasn't really trying hard to trade Roy Halladay . . . after he basically told everyone that he was going to trade Halladay?  Yeah, it's kind of like that.  Everyone is always available if the offer is right. If Steve Phillips gets hired by someone tomorrow and offers Ed Wade his team's top five prospects, Oswalt will be at the airport ten minutes later.
But I'm more interested in this report's source than its facts. Tony Jackson is a Los Angeles guy and he's dealing with an anonymous source. I'm not exactly a seasoned reporter, but I have found that you kind of need to know your anonymous source for a bit before they'll give you anonymous information.  This leads me to believe that Jackson's source is an L.A. guy he's known for a bit.  Maybe I'm crazy, but does it not seem likely that his source is a Dodgers guy who knows this information because the Dodgers inquired about Oswalt and were rebuffed?
A Dodgers source would call for anonymity far more than an Astros source with this kind of thing too. The Astros have already implied that they weren't shopping Oswalt, and it would actually help their position if this line was underscored through more official comment, thereby obviating the need for leaks like this.  The Dodgers — or any other team — however, would hurt themselves if their interest was known, partially because it would stoke expectations in the press and the fan base, and partially because it might stir competition among rivals for Oswalt's services. In their case, whispers are the only way you'll hear this kind of thing.
So, yeah, this all just armchair deduction on my part, but I tend to live by the two obs, and this kind of deduction usually works for me. I think the Dodgers have inquired about Oswalt.