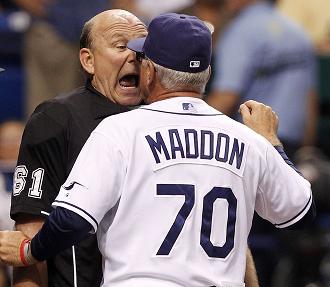 Carl Crawford and Joe Maddon were ejected in the bottom of the fifth inning in last night's Rays-Red Sox game after arguing balls and strikes. That's fine as far as it goes because they know the rule: you can't argue balls and strikes. Except in this case the far greater wrong was umpire Bob Davidson's demeanor during the argument.
Watch the video here. For starters, the ball was clearly outside and, as the announcers note, Davidson had been missing that call all night.  But that's not really important right now.  What's more important is the course the argument takes.
Watch Crawford. He starts up with some run-of-the-mill beefing. He heats up fairly quickly, however, and it seems apparent to me that he's heating up because of whatever it is Davidson is saying and, more importantly, how he's saying it. And Davidson looks animated. More animated than an umpire simply telling the hitter that the ball was a strike tends to get.  There was a little bump in there too — for which Crawford may very well be fined — but Davidson was not exactly backing down.
The real action starts after Maddon comes out.  No, Maddon does not distinguish himself here — he's obviously hot — but Davidson is leaning in, barking even more than Maddon is.
This is beyond an umpire defending his call. I don't know what it is, actually, I can't recall seeing an ump stay in a player's and a manager's face like Davidson did. Usually they
at least attempt to back up and defuse the situation.  Here Davidson seemed like the most hostile guy out of the three of them.
Look, I understand the rule about not arguing balls and strikes, but if umpires are going to have that rule, they need to treat their calls like they're non-negotiable. If the players and the managers insist on beefing about it, fine, let them beef a tad, eject them when they don't let it go and if they feel like continuing to embarrass themselves stand by, let them embarrass themselves,  and then file your report with the league office.  An umpire should not get into a red-faced spittle-spewing argument with the players or the managers.
Davidson embarrassed himself last night. The league should discipline him.