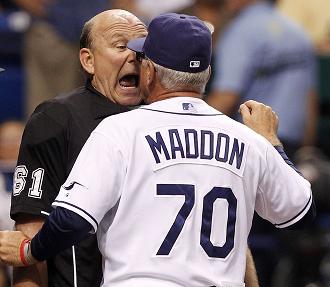 But neither are likely to get suspended for last night's altercation with Bob Davidson, reports Marc Topkin of the St. Pete Times.  Given that there was some bumping and stuff, you would normally expect a suspension. I'm going to take this is a sign that people at Major League Baseball realize that their ump had more to do with escalating that situation than either Crawford or Maddon did.
I also think Carl Crawford said it best: "If anybody should be getting suspended, it should be the umpire."
In related news, friend of HardballTalk TheCommonMan has a great post up over at The Daily Something Chronicling the history of umpires behaving badly.  Someone should print it out and send copies to Davidson and Joe West.