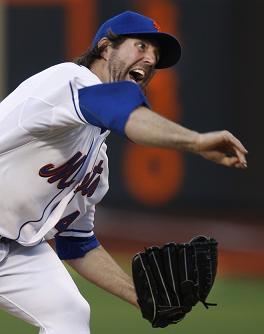 Mets 8, Phillies 0: In light the Phillies' struggles against Tim Wakefied and R.A. Dickey (6 IP, 7 H, 0 ER, 7K), the Mets are rumored to have offered contracts to Charlie Hough and Steve Sparks, the Braves are trying to persuade Phil Niekro to come out of retirement , the Nationals have been in communication with Tom Candiotti's agent and the Marlins are mulling an offer to the ghost of Hoyt Wilhelm.
Marlins 6, Braves 4: Kenshin Kawakami continues to get crap run support. Line of the game story: "[Hanley] Ramirez lost control of his bat and it sailed into seats along the
third-base side in the eighth, hitting a few of the 63,000 or so empty
seats in Sun Life Stadium."
Red Sox 2, Rays 0: Jon Lester threw six innings of one-hit ball for the Bosox's latest fabulous starting pitching performance. Big Papi's two-run double was the only scoring in the game.  If I was one of those hack sports writers who like to spout cliches I'd say something like "the Red Sox are making a statement!" or "the Rays' were exposed against a tough lefty," but  I'm not one of those guys, so I won't.
Cubs 3, Dodgers 0: Ryan Dempster outdueld Clayton Kershaw with a scoreless eight inning performance in which he allowed three measly singles.
Pirates 2, Reds 1: Strong starts from both Paul Maholm and Mike Leake, but neither figured in the decision. Ryan Doumit's homer in the ninth was his second game-winner in three days.
Giants 4, Nationals 2: Four days after I write off Todd Wellemeyer and say he needs to be drummed out of the rotation he throws six decent innings and even gets a hit to help a severely slumping Giants offense. None of us know nothin', really.
Padres 1, Cardinals 0: You know, I'm beginning to think that all of these teams that can't score against the Padres aren't just hitting offensive skids as a matter of coincidence. Jon Garland had seven shutout innings with seven strikeouts.
Mariners 5, Tigers 3: Milton Bradley homered and then drove in the go-ahead run in the eighth
inning off Verlander. Then, during the pitching change Bradley — who was on first base — ran into the dugout and gave everyone a round of jubilant high fives before running out and returning to the bag.  You can't spell "manic depression" without "Milton!" Um, at least if you leave out the L and the T.
Rockies 3, Diamondbacks 2: Three in a row for Colorado, aided by three hits by Todd Helton.  Have the Rockies finally gotten it out of neutral?
Angels 8, Blues Jays 3: Ervin Santana pitched a four-hit complete game with ten Ks. Three of the four hits were first-pitch homers by
Jose Bautista, Aaron Hill and Jeremy Reed, though, which is kind of odd.  Are there any Three True Outcome pitchers?
Brewers 6, Astros 1: Randy Wolf threw seven scoreless, giving Milwaukee its first effective outing from a starting pitcher since Pete Vukovich retired.  Well, at least it seems that way.
Rangers 8, Royals 7: I'm beginning to think that the Vlad Guerrero signing was a wise one (3 for 5, 2 HR, 2B, 5 RBI).  His double came on a pitch that, according to the game story "few batters would be able to handle."  When the writers are back to describing Vlad's awful plate discipline like that, you know he's humming.
Indians 7, White Sox 3: The Tribe chased Jake Peavy after jumping out to a 6-0 lead on eight hits after six innings.  For the record, Peavy also gave up six runs on eight hits in his last start, against the Angels, last Thursday. But hey, at least he's consistent.
Orioles 5, Athletics 1: Three of the O's five runs came without hits: two on sac flies and one on a fielder's choice + error.  Dallas Braden left this one early with a sore ankle.  Remember how Mark Buehrle scuffled a good deal after his perfect game last year? Braden seems to be doing the same. Coincidence? Yeah, I think so.
Yankees 0, Twins 0: SUSPENDED:  The umps suspended this one after a 1-hour,
23-minute rain delay with the score 0-0 after five innings. The game will resume in the top of the sixth today at 4:10 p.m., though obviously not with Scott Baker or A.J. Burnett — who were cruising — on the mound.